When you belong to the general food and Grocer industry – the responsibility tends to be higher. As people trust your promise, food quality and price before even purchasing your stuff. Usually, if we look at FMCG – the Fast Moving Consumer Goods the challenge becomes more. As being the best halal meat company in Australia doesn't come in easy. There is a lot that you don't know about Desi Kasai – your best meat provider in town and country. Let us tell you what we offer and how our meat is of the premium quality and standard.
Who & What Is Desi Kasai?
We are a team of professionals who undertake the responsibility to provide our Aussie folks with the best, premium, halal and certified meat in town. Our butchers to our in-store staff – all ensure to follow safety and precautionary measure to ensure your meat is securely packaged and then sent to your doorstep. We love it when we pamper and shower you with extra caring measures. We understand that our meat products provide our consumers with nutritional minerals and need to be fresh and good in taste when cooked. Our beef, poultry, mutton – all are halal and of premium quality.
Our Approach Is Unique & Simple
Desi Kasai is devoted to obtaining its meat from farmers who are ardent about nurturing and picking their cattle's sustainably and decently and that is why all of our meat products are fresh and GMO-free. We offer unique features to help our customers shop and work together. Yes, for this purpose we have introduced our click and collect option as well as home delivery and now Chop-E is into making to the target audiences. All of these features are here to help and guide you all along the way! Seasonal shopping gets boring easily particularly if you plan out the last day to holidays. Use our unique click and collect option, order online and pick it at your ease. Furthermore, you can also place an order online, and get it delivered at your doorstep.
How Desi Kasai Becomes The Best Halal Meat Provider In Australia?
We don't just care about the business growth itself. At Desi Kasai, we are focused on what adds value for our customers and what builds their trust on us. We offer loyalty cards, monthly discounts, first-time buyer vouchers, and home delivery services. All of these are a token of showing gratitude to our clients for their continuous trust and appreciation. We understand it is never easy to build trust and we take care of this part from the first time you step in our store.
What Services Do Desi Kasai Offers?
At Desi Kasai, we ensure to meet all of your meat needs. From beef to mutton to chicken – we have all freshly procured and butchered at our store. We also understand the Halal feature and its impact on our customers. Thus, we offer guaranteed halal meat only. This allows you peace of mind as well as satisfaction and trust in our organization. Now you can shop meat till you drop! Plan picnics, family get-togethers or any other such occasion knowing that Desi Kasai is here to take care of margination and precise meat cut.
Get Best Halal Meat Wholesale With Desi Kasai
Being a meat shop – at Desi Kasai, we don't forget to take care of our corporate clients as well. To meet bulk meat needs for various dishes, we offer our restaurants and hotels wholesale purchase option. Whether you order online or do an in-store pickup – we are always ready to cater to your requirements. Just drop us a message and share your requirements – and we will have the meat ready for you to pick up. Meat types include:
Buy Our Halal Meat Boxes As Well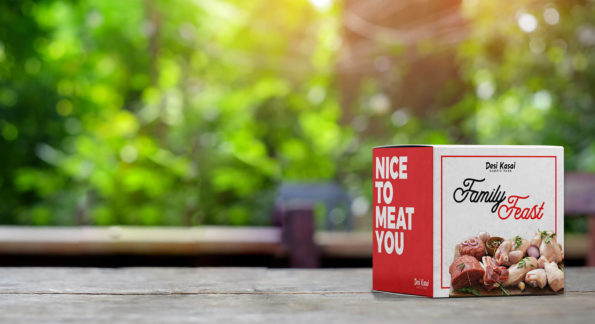 Due to high demand, we have ensured to add meat boxes in our supply category as well. These count-in as economical as well as a complete package. Our halal meat boxes cater your weekend party needs along with family feast get-togethers as well. The Weekend Party Box includes 1 kg of:
Marinated Drumsticks
Chicken Tandoori Tikka Boneless
Boneless Chicken Shish Tawook
Lamb Loin Chops
Goat Chump Chops
Goat Seekh Kebab
Whereas, the Family Feast Meat Box includes 1 Kg of:
Breast Fillet
Chicken Merrylands – Skin Off
2 Whole Chicken (each)
Baby Lamb Curry or Beef Curry
Baby Goat Curry/Kilo
Leg of Baby Goat

Secure Transaction Awaits You!
Roger that! We understand the safe transaction and its security to the core. So you don't have to worry about sharing your personal details with our staff through click and collect option as well. You can easily make payments and let us know how you want to go about it. The click and collect option is one of the securest modes of online transactions and you don't have to worry about any misuse as well. We at Desi Kasai look forward to serving you, your family and friends always. Let us connect through Facebook, Instagram, and Pinterest today and tell you some of the yummiest recipes to surprise your guests and family. This is why you get to hear that Desi Kasai is one of the best halal meat providers in Australia!